Whether you are interested in volunteer opportunities that involve a lot of interaction with others or more behind the scenes, Home of Hope has a place to utilize your unique skills.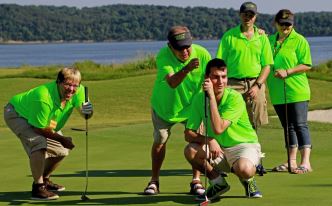 Volunteer opportunities at Home of Hope currently include:
Helping at any of our six thrift stores.

Sorting clothes, knick knacks, and other items at our distribution center.

Supporting the men and women we serve through our equine program.

Helping prepare games and other items needed for the many activities Home of Hope provides for the men and women in our programs.

Participating in any of our fundraising events by helping with setup, cleanup, or becoming involved on a committee to solicit auction items.

Take-home projects such as fixing up old furniture so it can be sold at our thrift stores.

Any unique skills you feel would make a difference in fulfilling Home of Hope's mission for men and women with intellectual and developmental disabilities. If you have a talent or skill you think you would like to offer, please let us know and we'll see if there's a way for you to become involved.
All volunteers must be 18 or older, and must complete a volunteer application form. If you're interested in finding out more or are ready to get started, contact Dr. Ralph Richardson or call (918) 256-7825.